The Technology Behind the 2022 Olympics
Despite its nearly 3,000-year history, the Olympics took a major departure from tradition this year. The 2022 Beijing Winter Games were one of a kind due to epidemiological, environmental, and political obstacles. More specifically, the global pandemic, Beijing's snowless climate, and China's human rights crisis all presented challenges. The sporting event also took place just six months after its summer counterpart — with spectators experiencing Olympic fatigue and broadcasters straining to drum up the same excitement.
But challenges, as they say, bring opportunities — which is exactly what China and the International Olympic Committee (IOC) looked to capitalize on. As a result, creative uses of technology changed the game at every bump in the road ski slope.
The resulting event was a logistical achievement so successful that the average viewer didn't even realize what was going on behind the scenes. In this way, the 2022 Games didn't just put athleticism on display, but also technological innovation. Here's a look at the next-generation connectivity, capabilities, and digital ecosystems powering it all.
Table of Contents
The 2022 Beijing Winter Olympics at a Glance
From February 4 through February 20, 2022, Olympians and essential personnel entered a 'closed loop' system in and around Beijing complete with self-driving cars and robotic bartenders. Real-time virtual interactivity kept them connected with the outside world, and cloud-based broadcast workflows brought the experience to living rooms everywhere. In this way, Beijing 2022 served as a proof of concept for what the most cutting-edge technologies can accomplish today.
Organizations in Charge
Some of the major players behind the world's biggest sporting festival included:
International Olympic Committee (IOC): The supreme authority on all matters concerning the Olympic Games.
Olympic Broadcast Service (OBS): The production company providing television, radio, and digital coverage of the Olympic Games — and thus the source of all content created at Beijing 2022.
Rights Holding Broadcasters (RHBs): The TV, radio, mobile, and internet platforms from regions around the world who acquired exclusive rights to redistribute Olympic content provided by the OBS.
The Physical Setting
Beijing Olympics is a bit misleading given that the Games were spread across three location clusters situated two and a half hours away from one another. These included:
Beijing Zone: The Olympic Village, five ice events, and Big Air snowboarding and ski took place at venues within the city proper.
Yanqing Zone: A second Olympics Village, sliding competitions like luge, and alpine skiing were held 90 kilometers/56 miles outside of the city in the Xiaohaituo Mountain Area.
Zhangjiakou Zone: All other skiing events were hosted 220 kilometers/140 miles outside of Beijing in the Zhangjiakou zone.
A 5G Express Train linking Beijing and Zhangjiakou ensured speedy travel between the two zones for athletes, journalists, and other attendees — boosted by next-generation internet coverage along the route.
Unique Challenges
Closed loop: Due to COVID-19, on-site participants were isolated from the external world and regularly tested. Most broadcasters, commentators, and even judges participated from remote locations.
Diplomatic boycott: The U.S., U.K., Canada, India, Australia, Lithuania, Kosovo, Belgium, Denmark, and Estonia all declared a diplomatic boycott of the event due to human rights issues related to China's treatment of the Muslim population in Xinjiang.
No snow: Beijing averages less than one inch of snow per month throughout the winter, for which reason artificial snow played a crucial role throughout the event.
Limited on-site resources: Forty percent fewer broadcast personal were on site than at PyeongChang, spurring the need for more flexible, modular production environments and cloud-based solutions.
The Solution
A combination of 5G-enabled virtualized technologies made the Winter 2022 Olympics possible. The Olympic Broadcasting Service (OBS) moved content delivery, signal processing, post-production, and many other broadcasting elements into the cloud for the first time ever. From there, remote-friendly content workflows connected the disparate parties contributing to the event — with high-speed connectivity powering it all.
'Over the last two years, the global pandemic has forced broadcast organizations around the world to speed up their transformation, and they made more changes in these two years than they had in the previous decade. We introduced OBS Cloud in 2019, then in 2020 when the pandemic began RHB bookings increased seven-fold. The challenge of the pandemic made us all more creative in our thinking about how to work in a more efficient, remote, and virtual way. An important project for Beijing 2022 is a virtualized Outside Broadcast (OB) van, whose control room will be based on virtualized, cloud-ready technologies, done in collaboration with our partners, Alibaba and Intel…

For the first time, more than 20 broadcast organizations will receive the feeds in real-time at their centralized production house back home through the cloud, in either UHD or HD. The fact that broadcasters have shown significant interest for this new service is indicative of the growing integration of cloud-based workflows and how RHBs are offloading more of their traditional video infrastructure to the cloud."
Five Technologies Powering the Olympics' Digital Transformation
The Internet of Things (IoT)
Throughout the 16-day event, self-driving cars transported people and supplies, robots prepared food and tended the bars, smart beds equipped with sensors monitored the athletes' vitals, and internet of medical things (IoMT) wearables tracked their heart rate, hydration, and blood flow.
Additionally, plenty of internet of things (IoT) cameras captured content for viewers at home. These included fixed beauty cameras installed across the city, drones and helicopters broadcasting birds-eye views of competitions, as well as cameras embedded into curling balls and fitted onto snowmobiles. Delivering live signals from these remote devices required high-performance wireless connectivity, which is why 5G played an essential role powering the entire IoT ecosystem.
5G Connectivity
5G — the fifth generation of mobile communications — ensured super-fast broadband for many of the technologies at the Beijing Olympics.
Specifically, 5G supported: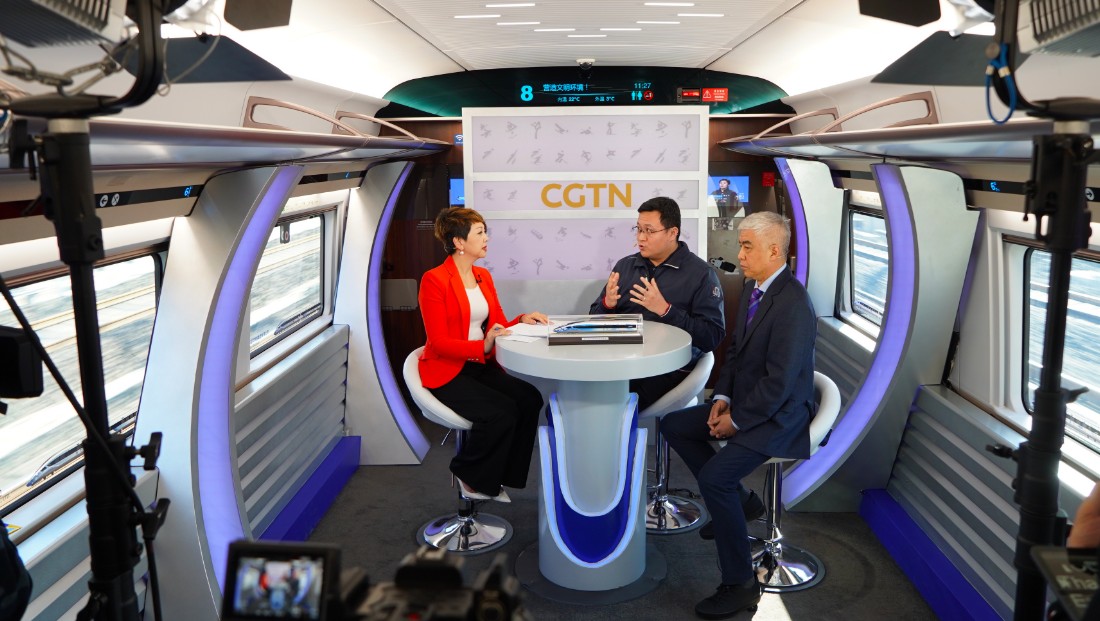 As mentioned above, the 5G Express Train provided athletes and other personnel with 5G connectivity while traveling between the two zones. Even more impressive, it housed the first-ever 5G production studio for Chinese News Network, broadcasting live content while speeding through remote areas at 350 kilometers per hour.
Next-Generation Content Delivery and Management
The sheer amount of programming captured during the Beijing Olympics brought about a need for advanced content management (or video CMS) capabilities. OBS produced 6,000+ hours of live video this year in 4K HDR — boosted by 5.1.4 immersive audio. This gave viewers more flexibility than ever before in controlling how they consume the Games. But making the most of it also required a simple way for rights broadcast holders (RBH) to organize, store, and share the content.
The OBS streamlined content delivery with Content+, their cloud-based solution for organizing, discovering, and resharing footage from Beijing 2022. The platform leveraged artificial intelligence (AI) for content analysis, indexing, searchability, compilation, highlight production, and other forms of automation. This allowed OBS producers and regional third parties to easily find what they're looking for, edit videos remotely, and reshare on a myriad of platforms. Short-form clip extraction simplified social media distribution and AI-based tagging made is easier to sort through the giant collection.
Interactive and Immersive Broadcast Technologies
As a truly hybrid event, the 2022 Olympics leaned on interactive and immersive broadcasting to bridge the gap between on-site athletes in Beijing's closed loop and remote spectators around the globe. Low-latency technologies and extended reality (XR) capabilities made it all possible.
For example, Eurosport's coverage of the 2022 Winter Olympic took place in a windowless West London studio. Despite this, viewers were able to escape from the ongoing pandemic by tuning into commentators at an alpine lodge with panoramic views of Beijing's snow-covered mountains. XR capabilities were used to transport commentators anywhere, teleport athletes into the studio, and provide analysis of events like never before.
This is all thanks to the Discovery+ Cube, a virtual studio designed to immerse viewers within Beijing. Discovery explains:
"Discovery's ground-breaking Cube will again continue to push the technological boundaries in broadcasting and studio development. The Cube creates an entire virtual world, beyond any sports studio seen before, depicting a striking mountain hideaway embedded in the face of a snow-capped mountain. As the viewer is brought closer, the experience is revealed to be a vast cinematic winter resort, offering limitless immersive presentation and analysis positions on multiple levels of the resort…

Bespoke avatars built to closely resemble athletes from specific winter disciplines, will float in the Cube, so 'Team Discovery' experts will be able to walk around them and analyze the minutiae of an athletes' movements and performance in more detail than ever before. In addition, background avatars will populate the studio space, adding atmosphere and life to the environment, and will even be transported around the resort by a functioning ski lift. Bringing together a range of different avatars and winter environments, Discovery's Cube can create thousands of different combinations to illustrate its winter sports storytelling."
Other examples of interactive and immersive capabilities included:
Athlete Moments stations, where athlete interacted with family and friends back home directly after stepping off the rink, slope, or bobsled chute.
A Virtual Fan Wall, which gave global fans the ability to upload clips and share messages of support.
The Virtual Cheer Map that dynamically displayed audience members around the world supporting the Olympians in real time.
AR/VR multi-camera replays for viewers to take close-up looks or examine various angles of the competition — leveraging the 70+ hours of 4K VR 360° content streamed during the Games.
Social media integrations and enhancements ranging from AR Instagram filters to TikTok's dedicated content hub.
Analytics and Data Visualization
Finally, the Beijing Games displayed an unprecedented level of data visualization. Those watching from home had access to in-depth analytical insight using real-time telemetry. 2D image tracking pinned athletes in relation to one another; whereas instant jump analysis showed the height, angle, and duration that an athlete was in the air. This also took the form of overlays showing the changing speed of a skier and 360° views of an ice skater during replays.
Conclusion
In many ways, everything about the Beijing Games was artifice — from the winter landscape that athletes competed on to the remote commentators projected into Beijing's snow-covered setting. Fake snow, a manmade carbon-neutral speed skating ice river, and the world's largest LED display over 8K resolution also made the 2022 Winter Olympics possible.
COVID-19 certainly spurred innovation, as did several other unique challenges outlined above. But does that mean that virtualized technologies and driverless cars will no longer be leveraged come the 2024 Summer Olympics in Paris? Not a chance.
The innovative technologies at Beijing 2022 will outlive the pandemic and continue to transform how the world's biggest sporting festival is brought to life. Cloud-based broadcasting workflows will streamline how content is collected, distributed, and consumed — with immersion and interactivity becoming standard across the board.
Barry Owen is Wowza's resident video streaming expert and vice president of solutions engineering. In this role, he leads a team dedicated to helping customers succeed. From architecting custom applications to solving complex problems, Barry leverages more than 25 years of experience developing software-as-a-service, cloud-based, and live streaming platforms to create innovative solutions that empower organizations across every use case.
Get Started With Wowza Today